Providing Tile Installation and Repair Services
We Take Pride in Good Customer Service.
Browse our site to see our complete tile services, or contact us to learn more about what we do.
Engineering Consulting Company in Southern California
METENG LLC is an engineering consulting company in Southern California specializing in electro-optic prototype development, research, and manufacturing. Our firm was founded by Milfred E. Thomas, the only son of Milfred K. and Alfreda L. Thomas, in 1984. Since then, our hardworking team has maintained our philanthropic family values and remained committed to developing technology.
Our founder, M.E. Thomas, was mechanically inclined and involved with his father's experiments, projects, and hobbies, such as welding and auto mechanics. By age 15, he was rebuilding V8 engines for the family and their neighbors. M.E. Thomas focused on physics and pursued mechanical engineering at California Polytechnical Institute, Pomona in Pomona, CA. Meanwhile, M.K. Thomas, who engaged in electronics, chemistry, and mechanical engineering, secured two patents before 1960.
Our Focus
In December 1983, M.E. Thomas, a manufacturing engineer, founded METENG LLC in Santa Barbara, CA, to bridge the gap between R&D and commercialization. Its goal is to help companies shorten the product development cycle and minimize costs. As a result, companies can bring profit-making products to the market quicker than the typical 6 to 8-month cycle. They can also avoid the hassle of hiring additional personnel or reassigning current staff for product development.
METENG LLC will investigate your requirements at no cost and develop a proposal on a project-by-project basis.
Optical Positioner Intraocular Lens Inspection System (September 1984)
METENG LLC invented and marketed the first inspection system for intraocular lenses (IOLs). Additionally, we developed the first program to allow feasibility studies of CO2 laser manufacturing of IOLs.
Remote-Controlled Microscopy Instrumentation (December 1984)
Working with a Nikon distributor, A.G. Heinze, METENG LLC developed remote-controlled microscopy instrumentation to inspect diamond-turned mirrors for Lawrence Livermore National Laboratory's (LLNL) Strategic Defense Initiative Program.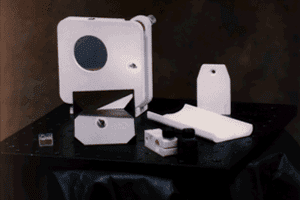 Ceramount(tm) (May 1995)
METENG LLC introduced Ceramount(tm), the first all-ceramic kinematic mounts for laser resonators. This material was made by a net-shape casting process developed through a cooperative effort with NASA Langley Research Center and Precision Ceramics of Richmond, VA.
Polymount(tm) (June 1994)
METENG LLC created the Polymount(tm) product line, which consists of polyurethane optical mounting components that are one-third the cost of conventional aluminum components.
Bragg Fiber Fixture
METENG LLC in collaboration with RCOP Hampton University under the direction of Dr. Donald Lyons, designed and developed a "Bragg Holographic Fiber Optic Grating interferometer Writing Instrument". This instrument was patented in May 1994.
Portable Optical Receiver
Dr. Thomas Chyba, Hampton University Research Center of Optical Physics (RCOP) atmospheric research professor, contracted METENG LLC to design and manage the fabrication of a portable optical receiver for measurements of gases, such as methane and water vapor. This portable receiver utilized a 17"-diameter Cassegrain telescope mounted on a channel. We designed the frame, worm drive system, optical receiver breadboard, and various custom mounting hardware to achieve desired results. 
About Our Founder
Our founder, M.E. Thomas, is a knowledgeable and experienced project manufacturing engineer focusing on volatile organic compounds (VOCs) in the pharmaceutical industry. He also has an extensive background in custom equipment, metrology, tooling development, and sustaining engineering with improved efficiency and ergonomics.
Professional Experience
Thermo Fisher Scientific, TDX, West Hills, CA (2019 – Present)
Pharmavite, San Fernando, CA (2013 – 2019)
US Seismic Systems Inc., a Subsidiary of Acorn Energy, Chatsworth, CA (2011 – 2013)
HunterLab, Reston, VA (2007 – 2011)
Adaptive Energy, Hampton, VA (2005 – 2007)
J-Tech/Division of Conesys Inc., Tustin, CA (2000 – 2005)
NASA Langley Research Center (Lockheed Martin Contractor), Hampton, VA (1996 – 2000)
NASA Langley Research Center (STC Contractor), Hampton, VA (1992 – 1996)
Newport Corporation, Fountain Valley, CA (1987 – 1992)
Education
Engineering, East Los Angeles City College (1978)
Lasers and Optics Courses, Pasadena City College (1981)
Engineering Technology (202 Units Completed Toward BS), California Polytechnic University, Pomona (1992)
Publications
Atmospheric Thermal Lensing in Laser Resonators – IEEE Journal of Quantum Electronics. (Volume 31, Issue 5, May 1995)
A Ruggedness Evaluation of Procedures for Damage Threshold Testing Optical Materials. (NASA TM – 4639, 1995)
Invention Disclosures
Case No. C-CMA-0425, ITT Cannon Industries, "Optic Fiber Attenuator," Process Patent To Mold a Fixed Loss F.O. Attenuator. November 27, 2002
RCOP Hampton University, Dr. D. Lyons, M.E. Thomas, "Bragg Holographic Fiber Optic Grating Interferometer Writing Instrument. May 1994
NASA Case No. LAR15377-1-SB, "PZLT Unimorph Electrically Tunable Mirror." February 1993
Awards
2001 ITT Cannon Industries
NASA Public Service Award Nomination, NASA LARC, Hampton, VA (1998)
NASA Group Achievement Award LASE Experiment Team, NASA LARC, Hampton, VA (1997)
E3 Award of Excellence (Ph.D. Team), NASA LARC, Hampton, VA (1993)
Special Training
Proficiency in Operating Standard Machine Shop Equipment, Lathes, Vertical Mills, Grinders, Electrical Discharge Machining, Wire Discharge Machining, etc.
IPC-A-610 CIT, Certified IPC Trainer
Six Sigma Greenbelt Certification, University of Michigan (2003)
Certificate, "Glass Science and Technology," Elan Technology, (October 20, 2002)
Proficiency in AutoCAD Inventor, Pro Engineering, Solid Edge, and Solid Works